Sleep App
Moonoa: the only 100% free sleep app
Download it now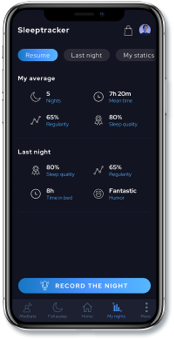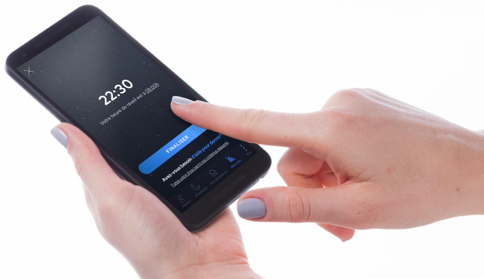 Track your nights
Our technology collects all the necessary information to analyze your sleep. Easy to use - just one click at bedtime. Leave your phone in airplane mode overnight? No worries - it still works.
Analyze your sleep
A detailed analysis of your night is available on the app. You'll find a page with your sleep score, statistics, and daily results. Each week, you'll receive a personalized report by email. Along with recommendations, you can follow your progress week after week.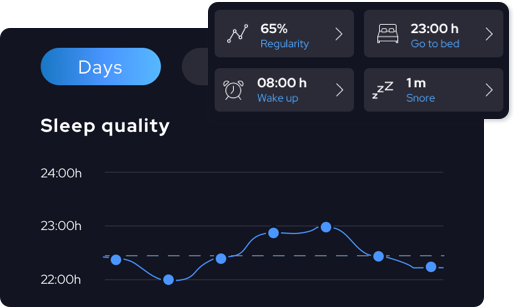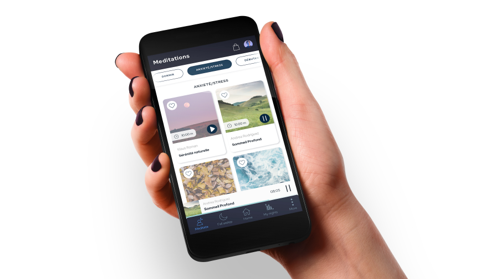 Relax with meditations
Meditating relieves stress and anxiety, your sleep's worst enemies. Free your mind and soothe your soul with Moonoa's exclusive collection of meditations.
Fall asleep easily
Falling asleep has never been easier, thanks to the stories and music especially written and composed for Moonoa.
Contact your coach
Whether it's a quick chat or an individual session, our coaches are there to answer all your questions and encourage you throughout the program.
Challenge yourself
Thanks to our experts, you will learn a lot ( and we mean a lot ) throughout the program. About yourself, your sleep, and your well-being. Then, using the app, you'll turn knowledge into action to make quick and effective progress.
Interact with the Moonoa community
Via our in-app chat, you can interact with other members of the Moonoa family. Share your stories, motivate each other, and remember: your experience and advice are valuable.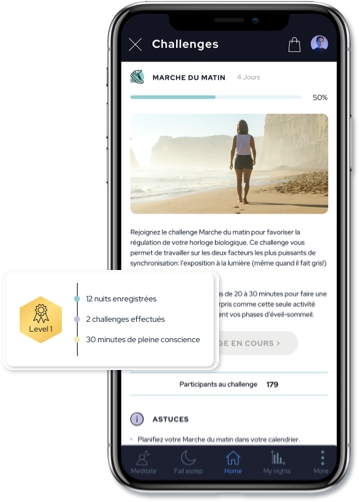 Who knows best? Our community
The coaches help you to understand the articles, the challenges are really motivating.
Mary, 50
Moonoa has finally allowed me to find a much more serene sleep!
Charlotte, 34
As I move forward, everything becomes more and more personalized. I am already on the road to restful sleep.
Phil, 54
I use the app every day and already see results after 3 weeks.
Caroline, 48
My sleep has really improved and I'm dealing with difficult nights much better.
Marina, 35